The feature photo at left is from the State Library of Victoria collection and was part of an album of photos the Library holds prepared by a long-time Cole employee – Henry Williams. Another photo in the 'series' appears below. Together they show Cole's broad range of writing and publishing interests. Please see the Gallery for more images from the Williams album.
Williams also wrote a biography of Cole, details of which are included in the Biographical section. A copy of the 250 page biography is also available as a 52MB .pdf here. The biography has also been transcribed as a 48 page, 64MB, .pdf here.
There are three categories of publications that bear Cole's name as author, compiler, editor or publisher. They are:
Publications that Cole wrote, e.g. Hobbies or Lying. These provide the greatest insight into Cole's mind and world view.
Publications Cole compiled or edited, the best known being Cole's Funny Picture Book. The main focus of these publications from this website's point of view are any preface or introduction Cole may have written.
Publications that have Cole's name on them, but in fact had nothing to do with Cole the man, called 'imprinted' books.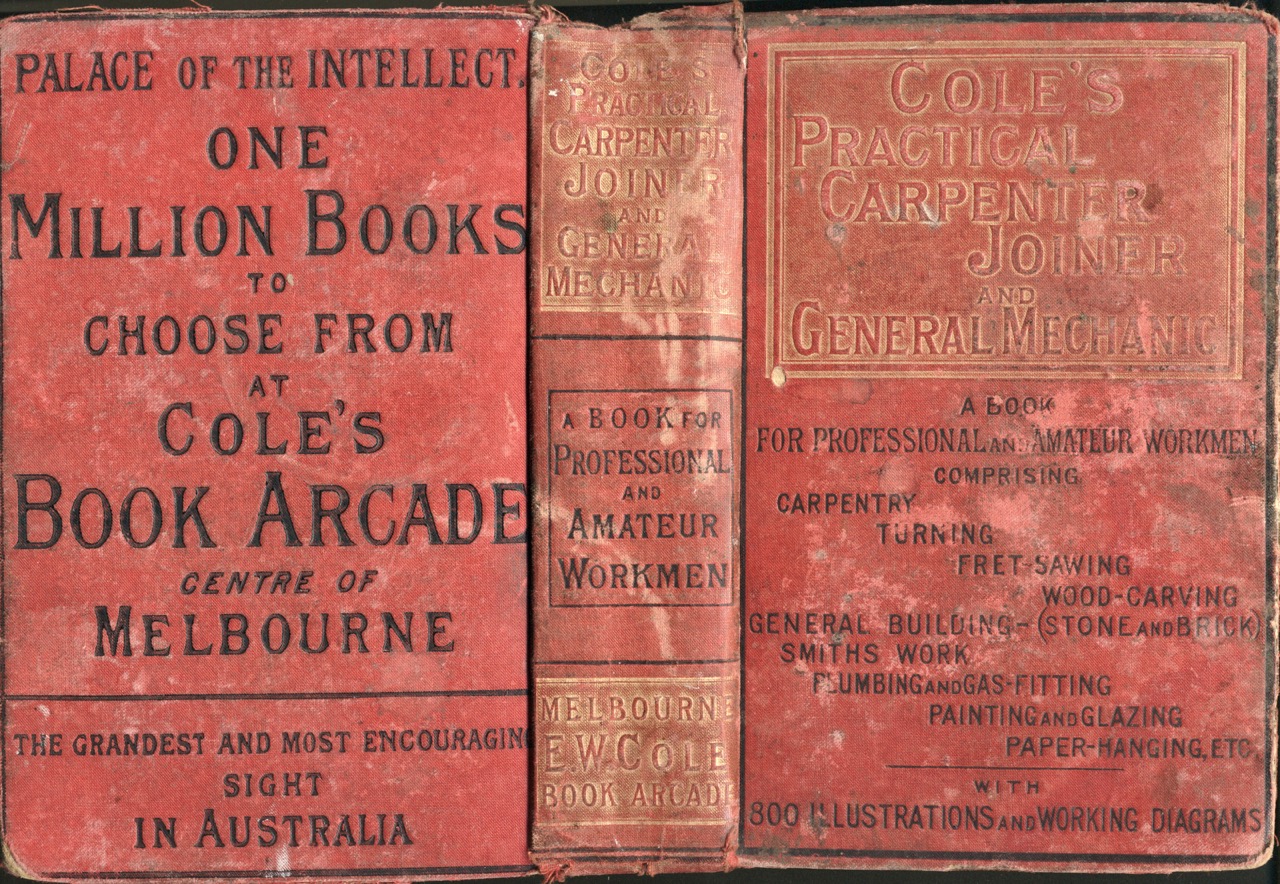 An example of an 'imprinted' book 'Cole's Practical Carpenter Joiner and General Mechanic' showing both covers and spine. The title page acknowledges that the book is 'Printed in England for E. W. Cole, Book Arcade Melbourne.' The last page of the 631 page book shows the printer as 'Unwin Brothers, the Gresham Press, Chilworth and London.'
It also shows Cole never lost a chance for self-promotion by including on the back cover 'Palace of Intellect. One Million Books to choose from at Cole's Book Arcade Centre of Melbourne. The Grandest and Most Encouraging Sight in Australia.
An insight into 'imprinted' books is given by John Percy Holroyd who wrote The Australian Book Trade: A Bookseller's Contribution to Its History. This book contains two sections of particular interest to this website.
On pages 156 – 197, Holroyd wrote an account of Cole's life from from a bookseller perspective. Please see the Biographical section.
His book also contains 101 'Book Trade Notes' that he collected, with note 98 on page 154 describing how these 'imprinted' books came into being:
98. Bibliographers are sometimes puzzled when they see an Australian bookseller's name on the title page or spine of a British publication. There are several explanations for this practice, which has now almost disappeared.
      First, the bookseller would obtain the sole rights to import and distribute in Australia (and in some cases New Zealand) a forthcoming publication by buying an agreed quantity. His name would often appear on the title page as well as the spine as well. This was practiced extensively in the 19th century by George Robertson of Melbourne. Instead of buying a given quantity of a work, he would purchase from the publisher a set of the stereotype plates relating to it. An agreed quantity would then be run off in a printery with a locally printed title page. Robertson would then have it bound in his own bindery. A lump sum would be paid to the British publisher. If the book became a bestseller on the Australian market, further supplies could be run off quickly. The saving on freight on 5,000 or 10,000 copies would be substantial. This was known as a 'closed market.'
      Secondly, E. W. Cole and others would place a large order for a book or a series with the publisher, the bookseller's name being printed on the title page. This did not give him exclusive rights to importation or distribution. It was the 'open market' system.  Subscription books sold direct by canvassers to customers comprised a third category.
Cole had his own printing works and bindery so it is feasible that he was involved in both 'closed' and 'open' markets, but as they offer no insight into Cole himself, are not included in this website.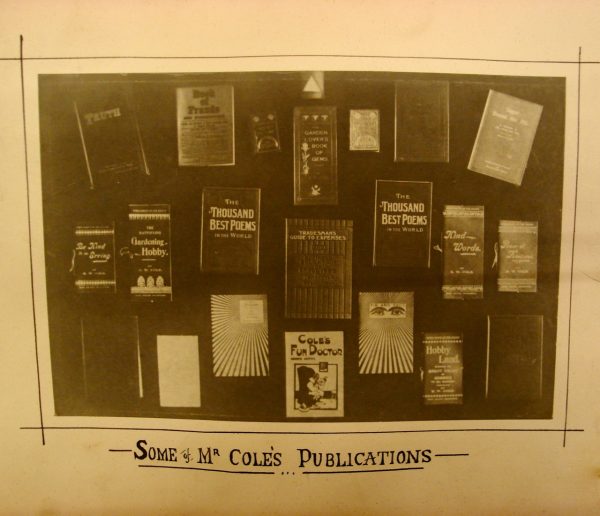 The one fact beyond dispute is that Cole's establishment, and the books it contained, were of great help to the common man, as indicated in this letter from Mr. John A. Atkinson.
Rose St.,
West Brunswick,
28th Dec., 1899.
E. W. Cole, Esq. –
Dear Sir,
     I am a young man of 22 and will be shortly leaving Australia for the Old World in the course of a few weeks; but before doing so, I consider it my bounden duty to let you know how helpful your Book Arcade has been to me intellectually. I am susceptible to the influence of good literature, and during my youthful years I have passed many a pleasant and profitable leisure hour at the sign of the "Rainbow" under the special privileges you concede to the public generally. Though a private institution, I venture to assert that the benefits it confers are of national importance, and worthy of public recognition. Music, too, has upon me an influence second only to that of literature, and the delightful music recitals by your orchestra both afternoon and evening are worthy of the highest commendation. All power to you, sir, for your pleasing and edifying "Book Bazaar," of which one never grows weary, but fonder, as the years go by. I will consider myself fortunate do I but find its counterpart at home, and be assured I will never forget the pleasant hours spent in the beau-ideal intellectual establishment of the Southern Hemisphere.
And I have the honour to be, sir,
        Your obedient servant,
                       John A. Atkinson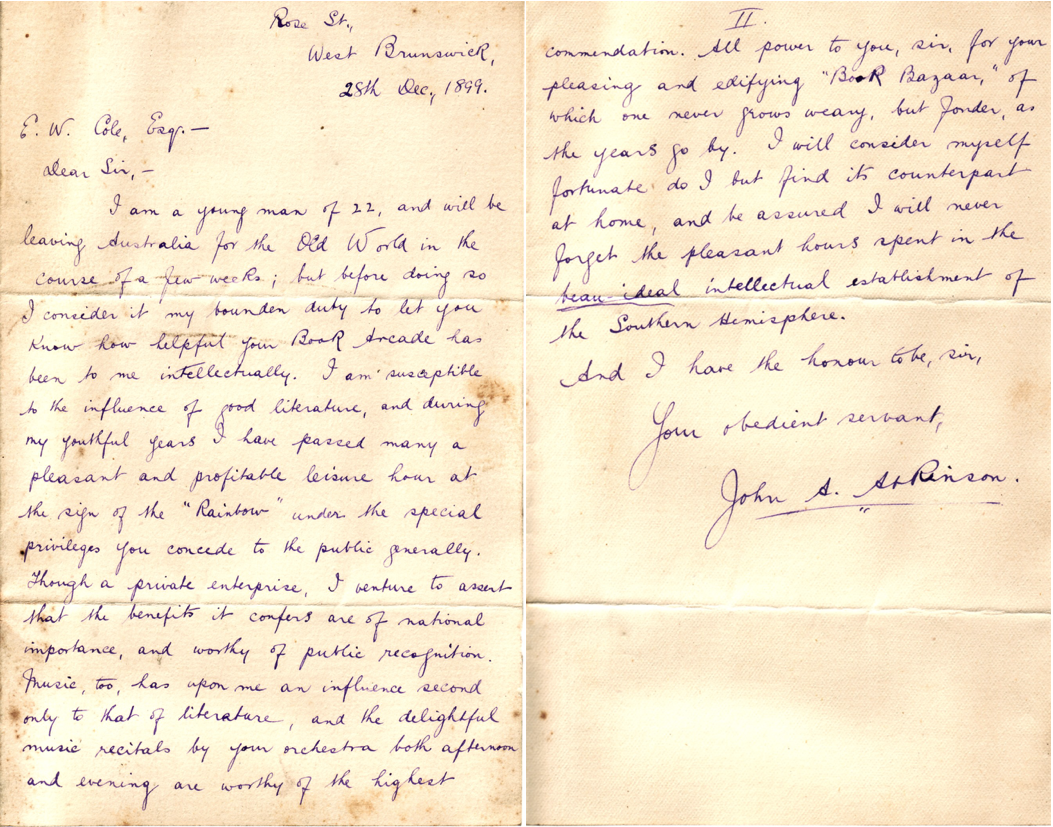 Pearl Cole collection.