The Life of E. W. Cole
by
"One Who Knows Him Well"
This is the only biographical account of Cole's life written while he was still alive, but it is unknown what role Cole played either by way of direct input or approval. It was written by long-time Cole employee and confidante Henry Williams, who in the initial biography chose to refer to himself only as "One Who Knows Him Well."
At some stage after this production, but before Cole died in December 1918, it was re-published as Selected Works Part I, re-named E. W. Cole: An Appreciation, but with no author.
A 52MB 250 page .pdf of the original publication, The Life of E. W. Cole, is available here.
A 66MB 50 page transcript is available here.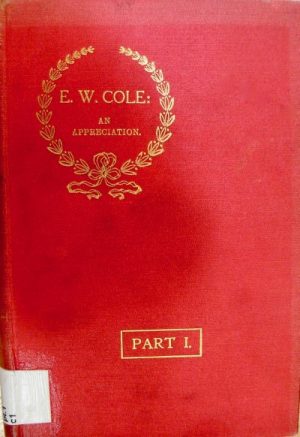 The contents of both publications are:
Preface
Introduction
Early Days
Eastern Market
Lover of Books
Compiler
Hobbies
Criticism
His Book
Railways
Religion
Education of Employees
Employees' Appreciation
Smoking
Federation
A Novel Idea
A Broad-Minded Man
Northern Territory
Australia
Drink Question
Value of Thinking
Philosophy
Characteristics
The English Language
Medals
Aviation
His Historic Verses
Woman, Our Angel
Growth of the Arcade
Distinctive Features
A Visitor's Description
Retrospect
Private Life
The Preface from Williams's biography:
    In this volume I have sought to give a brief epitome of Mr. Cole's history, and to collect, as far as the limited time at my disposal would permit, his leading ideas and some of his original gems of thought, in the belief that if they were brought within the compass of one volume, many readers who may not trouble to search for the scattered fragments of interest amongst his writings, would readily pursue and study his history and obtain much profit from his life's lesson of commercial triumph. Probably no two men recording the history of a third person would convey to the reader the same impression of their subject; for, should he possess leading features of character akin to those of one particular writer, that writer would naturally hold them to be of great merit, and would, merely through his individual leaning, elaborate characteristics which the other user would pass, or at most but briefly mention, whilst probably the major portion of the latter's efforts would be spent to profusely illustrate the intrinsic value of those elemental factors which his companion writer did not trouble to notice. Thus the same personality, being presented to the reader from opposite standards of judgment, may reveal a vastly different man. For instance, Byron bent his proud knee before Napoleon and became the laurette of his exile; but Southey, on the other hand, directed against him his dignified resentment. Brougham, Jeffreys, and Lockhart are united in fascinated admiration, whilst Canning, in the name of the freedom of the western world, impeached him before heaven, and Emerson anatomised him with keenest lancet. The mere illustration will serve to show how men of the same intellectual calibre may differ in their estimate of a man's character. We cannot imagine – indeed it were unreasonable to assume – that in a world where such diversity of opinion exists, but that opposing views of leading principles, and estimates of character would create opposing criticism to that degree, yet the rectitude of sterling worth must, to a great extent, remain the standard by which to analyse a man's value. I am anxious that the reader, especially the young reader, may study his life and his work, of which I have endeavoured to give a fair and truthful record.
    It is not uncommon for men to rise from obscurity when they deny themselves, and exert their energies to the utmost, seizing every opportunity that presents itself. In the following brief sketch of Mr. Cole's life and work, I have endeavoured to show his self-denial, self-control, and energy of character which, through the many vicissitudes of his earlier life, had borne him up on and up to the position which has enabled him to make good the romantic dreams of his youth. He has perpetually manifested principles of the highest order. The extraordinary patience with which he endured long years of ceaseless struggle for the mastery, the perseverance with which he pursued his objects, the iron will and the indomitable energy of the man are properties which cannot fail to attract and stimulate the active industry of ambitious youth; for to those, more than to genius or great talents or other things which are called good fortune, he, like most other great men, has achieved success.
THE AUTHOR.