Cole employed several hundred hands and was keen to involve his staff in improvements to his business. See Business Education for his book Trademan's Guide to Expenses and Business Education of Employees By 1 Employer and 100 Employees.
During Cole's times, work hours were spread over five-and-a-half work days – a half-day Saturday and no work Sundays. He believed that there was considerable benefit to employers, employees and the public for employees to have two full days off per week – Sunday , and, as per the token at left, Wednesday The Workers Own. This token bears the numismatic number D62 in the listing of George Dean. For other of Cole's political tokens, see the Politics section of the Tokens page.
He wrote a two page summary of his ideas under the heading Recreation Day – Only a Suggestion to be Thought Over and Discussed. It was published in his Cosmopolitan Reasoner on pages 224-5 and a 6MB .pdf of this article is available here.
Cole pursued the courage of his convictions and was prepared to go to court, which happened in February, 1897. He was charged with, and pleaded guilty to, six technical breaches of the Shops and Factories Act. He was fined 2s. 6d. on each of the charges with court costs of £1 1s. See the report by the Herald Standard on 17 February, 1897, page 1 here and a transcript of the article here.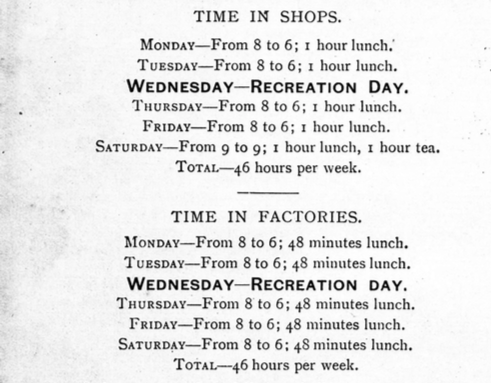 Extract from Recreation Day in the Cosmopolitan Reasoner showing Cole's calculations of achieving Wednesday – Recreation Day.