The title for Cole's publication shown at left is Tradesman's Guide To Expenses and Business Education of Employees By 1 Employer and 100 Employees, E. W. Cole , Melbourne.
The title is rather long, but says what Cole wants to say about the issue and is typical of his tell-it-like-it-is approach. This is perhaps encapsulated with the publisher details for this publication which is shown below:

While he calls himself a Bookseller, Printer, Publisher, he also adds 'Etc.' In many of his publications, he covers more than one topic and often, mid-book, the page numbers start again when the topic changes, demonstrating his priority of conveying information over publishing niceties. In this book, for example:
*   There are two page 2's
*   Page 23 is shown as page 3 (the '2' is missing)
*   Pages 26 and 27 are overprinted over the incorrect page numbers 30 and 31 (which have been hashed out)
*   The last item in the Contents page is shown as 'Ruled-paper at end ….. 230' (see below). But wait, there's more…
Essay on Thought by E. W. Cole (pages 237 – 248)
Opinions of Employees. Be Thoughtful. (pages 249 – 262)
Men's Thoughts about Thought, Collected and Classified by E. W. Cole (6 un-numbered pages).
On the inside front cover of the current volume, Cole acknowledges his appreciation to fellow-workers and fellow-authors, dated December 12, 1900, as follows:
Fellow-workers and fellow-authors, I have much pleasure in presenting you with the first and most important volume of our joint production of a Business Guide. It is a book of a hundred-and-one authors produced by writing down their impressions and conceptions of their own duty, etc.; and, I believe, for what it is worth, stands unique in the literary world; and, with all its here and there want of style, and its other defects, I know it is a useful book and believe it will do much good to both employees and employers. I believe that it will fill a public want, for a book or two of the kind are badly wanted to make the employee and employer work together with harmony and success. An explanation of the cause, origin, and nature of the book is given in the introduction, and on pages 2, 3, 4, 5, and 6, which I ask you to read. In fact I earnestly ask you to carefully read our mutual production right through, and am sure you will be instructed and not disappointed, for the contributions, as a whole, are beyond my most sanguine expectations when I first decided to carry out the idea, and I thank you most heartily for your earnest and thoughtful co-operation. The remainder of the work will be published and presented to you as soon as I am able. It will be larger than the present volume although this one covers nearly all the ground and is fairly perfect in itself. One more favour I would ask of you; if, after reading it, you agree with it, as a whole, try to push its sale and distribution for the good of ourselves and others.
Hoping that OUR BOOK will assist reform, be appreciated and meet with general success,
I remain,
Yours truly,
E. W. Cole.
The following is the Contents page for the book.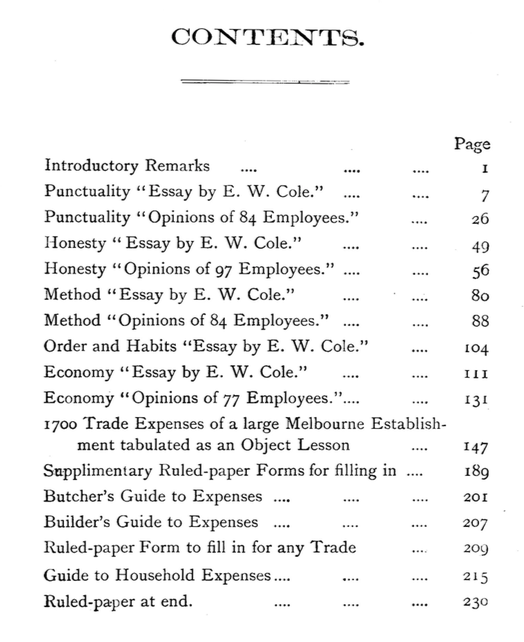 The book may be viewed or downloaded here (390MB, 276 pages).
The six essays written by Cole are also available separately, as follows:
Punctuality
Essay by E. W. Cole and Opinions of 84 Employees available here (85MB, 49 pages)
Honesty
Essay by E. W. Cole and Opinions of 97 Employees available here (38MB, 66 pages)
Method
Essay by E. W. Cole and Opinions of 84 Employees available here (53MB, 31 pages)
This essay is also reproduced in another of Cole's publications, the Cosmopolitan Reasoner (pages 226-31) available here (19MB, 6 pages)
This latter has also been transcribed and is available here (15MB, 11 pages)
Order and Habits
Essay by E. W. Cole available here (27MB, 14 pages)
Economy
Essay by E. W. Cole and Opinions of 77 Employees available at this here (72MB, 42 pages)
Thought (unlisted in Contents)
As mentioned above, the two added essays are:
Essay on Thought, by E. W. Cole and 65 Concise Opinions of Book Arcade Employees
Men's Thoughts about Thoughts, collected and classified by E. W. Cole.
Both these essays are available here (71 MB, 40 pages)
These same 2 items also appear in another of Cole's publications (with slight title changes):
Essay on Thinking and 150 Thinkers Thoughts in Cosmopolitan Reasoner (pages 204-14) available here (30MB, 11 pages)
Essay on Thought on its own is also published in Selected Works Part II (pages 1-43) available here (12MB, 47 pages)
This last item has also been transcribed and is available here (13MB, 10 pages)